Treats

Tails also has a great treat collection! From jumbo beef bones to Mini Liver Hearts- we have something for everyone - guaranteed!

Take a closer look at some of the treats we stock!



Darford Bakery
Darford cookies are a Tails favourite!

These treats were developed almost 25 years ago by Darcy, Darford's founder, who wanted better treats not only for his dog but for all dogs. This natural variety of flavored treats in all shapes and sizes stands as a testament to generations of dogs and their owners who agree that love conquers all!

These treats are baked in the Darford Factory in Vernon, BC.
---

Northern Biscuit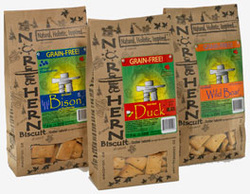 Northern Biscuit Bakery realizes the importance of a dog's place in the family. Just as proper nutrition is important to your family's health, it is equally important to the health of your dog.

Inspired by the pristine wilderness and poetic beauty of Canada's Far North, Northern Biscuit has developed a variety of natural biscuits using stone ground grains, wild game, farm fresh meats and fresh Lake Trout.

Their meats and poultry (100% grain-fed) are Food-Grade from either USDA and/or CFIA Federally Inspected HACCP facilities. Their grains are also food-grade and all of our non-wheat varieties are GMO-Free.

Northern Biscuit Bakery is commited to providing innovative, functional treats baked without preservatives or artificial ingredients, ideal snacks as part of a HOLISTIC diet!


---
Waggers