About Tails
Owner, Amanda Hamilton
Tails Pet Supplies & Services has 2 locations that cater to the needs of dogs and cats, chickens, goats, horses and pigs, and the occasional ferret, guinea pig or parrot, in the cities of Rossland and Trail, and surrounding areas.

Our passion is the health and well being of your pet. Our knowledgeable and friendly staff's primary focus is to help you make the right choices for your best friend.

Owner & Founder Amanda Hamilton (pictured right) has a passion for animal welfare, an extensive background in retail and three years of experience working for the BC SPCA.

A year after moving to Rossland, BC in 2006 she decided to open Tails Pet Supplies & Services and bring some much needed pet supplies to the local area. After nine years of steady growth in Rossland, a second location was opened in Trail to the delight of Glenmerry and surrounding residents.

​Amanda's goal with Tails is to bring quality pet food and supplies to her local community and to share her knowledge of pet care and passion for animal welfare with anyone who wants to hear!




---


Meet the Rest of the Team!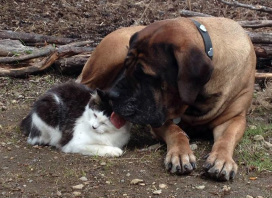 Chelsea

Chelsea has a passion for animals, their welfare and extensive experience working in a veterinary clinic. She also has a menagerie of her own pets from a beautiful Pit Bull Terrier called Lola to chickens, ducks and several cats, so she has a lot of personal experience to share too!

Chelsea is our Daycare Manager, so come on in and talk to her about all things off-leash at Tails!
---




Roni

Roni is our Trail Store Supervisor and the biggest dog lover I have ever met. If you bring your dog into Tails I can guarantee that Roni will love and fuss over your dog for the entire time you are in the store.

Roni is a ray of sunshine and she knows her products too, so if you have questions about toys, food or other things, come and in and talk to Roni, you will find what you need and leave with a smile on your face :)
---